Titanium Round Bars, ASTM B348 Titanium Bars, Titanium Bars, ASME SB348 Titanium Rods Stockist, Titanium Alloy Rods, Titanium Alloy Bar, Titanium Rods & Bars Exporter, Ti Alloy Round Bar, Titanium Rods and Bars Leading Supplier in Mumbai, India.
Bhagyalaxmi Industrial is manufacturing, supplying, and exporting the best quality Titanium Bars and Rods.  Our team is ready to deliver the excellent quality Bars in standard and customized dimensions as per the client's requirements. These Titanium Bars are fabricated using high-end alloy material which is procured from the most reliable vendors of the industry. All the range of Rods is manufactured according to national and international standards. Titanium Round Bars are preferred due to their hardness and sturdiness. These Rods can withstand high temperatures and pressures. TITANIUM alloy is an alloy that majorly consists of titanium metal and also some extra metals are also added for improved performance. Due to the high anticorrosive property of the metals, the Bars made up of titanium could perform better under stressful environments. There are also higher dimensional applications of these Bars with specific sectors such as the petroleum industry, Pharmaceuticals, Chemicals, and the marine industry. All our offered range of TITANIUM Bars consists of tensile strength, strong durability, reliability, and Super Finish. Bhagyalaxmi Industrial has always worked towards fulfilling the demands of the industry by providing the best quality range with the latest features. Thus we provide a superfine collection of TITANIUM Rods. Our Bars are produced by following defined manufacturing norms. We have established our manufacturing unit with all updated technology and machinery.
Titanium Flat Bars, Titanium Square Bars, Titanium Hex Bars & Rods, Titanium Rectangular Bars, Ti Alloy Rods Stockholder, Ti Alloy Bright Bars, Titanium Bars Exporter, Titanium Industrial Rods / Bars Stockist in India.​
These Rods are quite durable in nature and also have excellent workable property. The machinability of these  Bars is remarkable and this makes the products less prone to maintenance requirements. We are here to provide customer satisfaction to the fullest.  Bhagyalaxmi Industrial is well equipped with all the latest machinery which is being used to make a quality product. At our manufacturing unit, we have hired a team of qualified experts to test the quality of fabricated Rods/bars during the entire manufacturing process.  Bhagyalaxmi Industrial never compromises with quality. The raw material is procured from the trusted vendor for the manufacturing process. We follow all set national and international standards to test the quality of Bars. We understand the importance of packaging and hence are working to provide damage-free delivery. We offer delivery before a specified time on our clients' doorsteps.
Standard Specification For Titanium Rods / Bars
| | |
| --- | --- |
| Standard | ASTM B348 / ASME SB348 |
| Dimensions | ASTM, ASME and API |
| Round Bars Size | 10 mm To 100 mm Dia in 100 mm TO 6000 mm Length. |
| Round bar Diameter | 3-~800mm |
| Hex Bar size | 2-100mm A/F |
| Square bar size | 4 to 100mm |
| Flat bar Thickness | 2 -100mm |
| Flat bar Width | 10 to 500mm |
| Length | 3 to 6 meter, Custom Cut Lengths |
| Form | Round, Square, Hex (A/F), Rectangle, Wire (Coil Form), Wiremesh, Billet, Ingot, Forging Etc., |
Types of Titanium Rods / Bars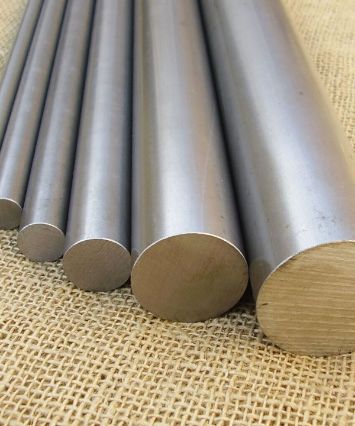 Other Types of Titanium Rods / Bars
Ti Alloy Flat Bar
Titanium Rods & Bars Stockist
ASTM B348 Titanium Bars Manufacturer
Titanium Cold Drawn Round Bar
Titanium Alloy Half Round Bars Exporter
Titanium Cold Finish Round Bar
ASTM B348 Ti Alloy Bars / Rods
Ti Alloy Cold Drown Bars
Titanium Bars and Rods Stockholder
ASTM B348 Titanium Alloy Bars
Titanium Alloy Bright Rods Supplier
Titanium Hexagon Bars
Titanium Alloy Flat Bars
ASME SB 348 Titanium Round Bars
Titanium Rods / Bars Popular Searches
titanium bars dealers in maharashtra, titanium alloy cold rolled round bars, titanium round bars exporters in india, titanium bars and rods price, titanium round bars / rods exporters in mumbai india, asme sb348 titanium alloy round bars stockist, ti alloy rods chemical composition, titanium alloy round bars pdf, asme sb348 titanium bars stockist in mumbai, titanium alloy rods and bars dimensions chart pdf, titanium bars/rods supplier in mumbai, titanium round bars/rods stockist, titanium cr bar / rods stocks, low price titanium alloy bars & rods in mumbai, titanium alloy bars price list, titanium alloy round bars stockyards, titanium rods in best price, titanium alloy bars manufacturer in mumbai, cheap price ti alloy bars and rods, astm b348 titanium rods, titanium alloy hr bars and rods standards, titanium rods & bars suppliers, titanium alloy industrial rods & bars, titanium hot rolled steel bars traders, asme sb348 titanium alloy rods suppliers in india, titanium alloy rods / bars price list, astm b348 titanium alloy round bars, ti alloy cold drown steel bars, titanium round bars wholesaler in mumbai, titanium bars and rods stockholders, titanium bars at best price in india, titanium bars stockist in india.
Export Destinations For Titanium Rods / Bars
Mexico, Bulgaria, Nepal, Yemen, Estonia, Bhutan, Thailand, Iran, Indonesia, Canada, Poland, New Zealand, Gabon, Iraq, Netherlands, Ukraine, Peru, South Africa, Tunisia, China, Israel, Germany, Lebanon, Egypt, Croatia, Belarus, Angola, Spain, Costa Rica, United States, South Korea, India, Argentina, Saudi Arabia, Lithuania, Qatar, Kenya, Portugal, Russia, Serbia, Mexico, United Kingdom, Venezuela, Colombia, Sweden, Bangladesh, Norway, Italy, Azerbaijan, Puerto Rico, Vietnam, Mongolia, Jordan, Oman, Trinidad & Tobago, Bahrain, Libya, Switzerland, France, Bolivia, Morocco, Finland, Malaysia, Algeria, Belgium, Chile, Ghana, Romania, Turkey, Japan, Ecuador, Gambia, Chile, Namibia, Taiwan, Hong Kong, Kuwait, Singapore, Kazakhstan, Pakistan, Denmark, Austria, Australia, Nigeria, Afghanistan, Hungary, Ireland, Brazil, Tibet, Czech Republic, Greece, Macau, Poland, Sri Lanka, Philippines, Slovakia, Iran, Zimbabwe, Nigeria, United Arab Emirates.
Domestic Supply For Titanium Rods / Bars
Houston, Rajkot, Edmonton, Los Angeles, Al Jubail, Baroda, Ulsan, Chandigarh, Ahmedabad, Toronto, Navi Mumbai, Chiyoda, Vadodara, Bogota, Kuwait City, Thiruvananthapuram, Busan, Bangkok, Bhopal, Perth, Colombo, Dammam, Al Khobar, Algiers, Geoje-si, Jamshedpur, Seoul, Lagos, Moscow, Santiago, La Victoria, Coimbatore, Chennai, Dubai, Sharjah, Ludhiana, Abu Dhabi, New Delhi, Kanpur, Ahvaz, Ernakulam, Nashik, Mumbai, Kolkata, Visakhapatnam, Gurgaon, Riyadh, Aberdeen, Hyderabad, Ho Chi Minh City, Tehran, Montreal, Pimpri-Chinchwad, Milan, Sydney, Jaipur, Atyrau, Pune, Doha, Manama, Vung Tau, Howrah, Petaling Jaya, Ankara, Muscat, Caracas, Haryana, Hanoi, Granada, Madrid, Rio de Janeiro, Gimhae-si, Thane, Mexico City, Port-of-Spain, Singapore, Faridabad, Courbevoie, Noida, Jeddah, Hong Kong, Surat, Calgary, Brisbane, Jakarta, London, Nagpur, Secunderabad, Dallas, Istanbul, Kuala Lumpur, Bengaluru, Cairo, New York, Melbourne, Ranchi, Indore.