Stainless Steel Rods / Bars
SS Bars, Stainless Steel Flat Bars, Stainless Steel Rods Stockist, ASTM A276 SS Bars, Stainless Steel Round Bars, SS Rods & Bars Exporter, ASME SA276 Stainless Steel Rods, Stainless Steel Rods, Stainless Steel Bars, Stainless Steel Rods and Bars Leading Supplier in Mumbai, India.
Bhagyalaxmi Industrial is a prominent supplier and manufacturer of Stainless steel rods / Bars in the domestic and international industrial market. We offer Stainless steel bars, in various shapes, dimensions, sizes, grades, lengths, surface finish, etc. Our offered rods have become an ideal choice for critical industrial applications due to many best properties such as High tensile strength, Perfect dimensional accuracy, smooth surface finishes, Long-lastingness, Flexible to use, Anti-corrosive body, Resistance to corrosion. These bars offer resistance to pitting and oxidation, stress corrosion cracking, and crevice corrosion. Stainless steel bars are provided to our customers at customized specifications according to the demands clients have as per the application's wants. We are assuring in speedy delivering of the bars to the clients in the best condition. This stainless steel alloy works greater in the organic and inorganic compound containing environments.
Bhagyalaxmi Industrial supplies Stainless steel rods that have excellent corrosion resistant ability along with greater strength capacity. It typically contains chromium, nickel, and molybdenum in addition to other elements like copper and tungsten, which have very good pitting resistance to several organic acids and chloride acids. These high-grade Stainless steel bars are also providing resistant ability to crevice corrosion, chloride pitting and stress corrosion cracking as well. Some of the qualities are strong weldability, erosion-corrosion resistance, higher durability, good ductility, smooth finish, great longevity, long-lasting service life, Holds high-temperature atmosphere, weldability, anti-corrosiveness, etc. This alloy has great resistance to pitting corrosion ability that ensures its good workability in odd environments.
Stainless Steel Polish Rods, SS Forged Bars Exporter, Stainless Steel Rectangular Bars, SS Hollow Bars, Stainless Steel Black Bars, Stainless Steel Square Bars, Stainless Steel Triangle Bars, SS Hex Bars Stockholder, Austenitic Stainless Steel Bars / Rods, SS Bright Bars, SS Industrial Rods / Bars Stockist in India.
At Bhagyalaxmi Industrial, Stainless steel bars are developed by using the superior quality of raw materials.  We, Bhagyalaxmi industrial is always strictly inspecting the rods under the proper guidance of well-qualified engineers that have good knowledge of product development. The use of sophisticated technology, advanced tools has helped in the development of Stainless steel rods. Experts are fabricating the products under a national and international set of norms to achieve top-notch quality. Bhagyalaxmi Industrial inspects these Stainless steel bars in destructive and non-destructive tests to satisfy the clients. We pack the Stainless steel bars with suitable packaging material and offer smooth, and defects free delivery without delay. 
Standard Specification For Stainless Steel Rods / Bars
| | |
| --- | --- |
| Standard | ASTM A276 / ASME SA276 |
| Dimensions | EN, DIN, JIS, ASTM, BS, ASME, AISI |
| Round Bars | Outside Diameter in the range of 4mm to 500mm |
| Bright Bars | Outside Diameter in the range of 4mm to 100mm |
| Hex Bars | 18mm – 57mm (11/16″ to 2-3/4″) |
| Square Bars | 18mm – 47mm (11/16″ to 1-3/4″) |
| Flat Bars | 1/2" to 10" in thickness range of 2mm to 150mm |
| Finish | Black, Bright Polished, Rough Turned, NO.4 Finish, Matt Finish, BA Finish |
| Length | 1 to 6 Meters, Custom Cut Lengths |
| Form | Round, Square, Hex (A/F), Rectangle, Billet, Ingot, Forging Etc. |
Types of Stainless Steel Rods / Bars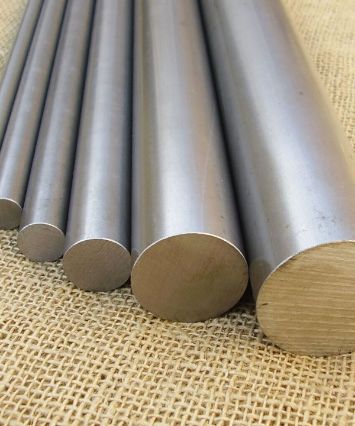 Other Types of SS Rods / Bars
Stainless Steel Square Bars
SS Round Bars
ASTM A276M Bars Manufacturer
SS Rods Stockist
ASTM A276 SS Round Bars
Stainless Steel Cold Drawn Round Bar
Stainless Steel Precision Ground Bars
SS Half Round Bars Exporter
Stainless Steel Polished Bars
Stainless Steel Cold Drown Bars
SS Bars and Rods Stockholder
SS Bright Rods Supplier
SS Threaded Bars
Stainless Steel Hexagon Bars
ASTM A276 Rods
SS Flat Bars
ASME SA 276 Round Bars
Stainless Steel Cold Finish Round Bar
SS Rods / Bars Popular Searches
astm a276 stainless steel round bars, stainless steel hot rolled steel bars traders, ss rods chemical composition, stainless steel bars stockist in india, ss round bars pdf, ss round bars / rods exporters in mumbai india, stainless steel bars/rods supplier in mumbai, stainless steel bars and rods price, ss cold rolled round bars, cheap price stainless steel bars and rods, ss hr bars and rods standards, ss round bars wholesaler in mumbai, austenitic stainless steel bars dealers in maharashtra, asme sa276 stainless steel bars stockist in mumbai, ss bars price list, stainless steel bars at best price in india, asme sa276 ss round bars stockist, ss round bars stockyards, ss industrial rods & bars, ss rods / bars price list, asme sa276 ss rods suppliers in india, low price ss bars & rods in mumbai, ss bars and rods stockholders, stainless steel round bars exporters in india, stainless steel rods in best price, ss rods and bars dimensions chart pdf, ss rods & bars suppliers, ss bars manufacturer in mumbai, ss cr bar / rods stocks, ss cold drown steel bars, stainless steel round bars/rods stockist, astm a276m rods.
Export Destinations For Stainless Steel Rods / Bars
Germany, Namibia, Sweden, Ghana, Croatia, Slovakia, Finland, New Zealand, Netherlands, Bangladesh, South Africa, United States, Vietnam, Romania, Czech Republic, Thailand, Australia, Spain, Pakistan, Peru, Bulgaria, Portugal, Russia, Bolivia, France, Estonia, Afghanistan, Ireland, Iraq, China, Oman, Lithuania, Egypt, Libya, Saudi Arabia, Morocco, Ecuador, Tunisia, Italy, Zimbabwe, Norway, Bhutan, Azerbaijan, Trinidad & Tobago, Mexico, Lebanon, Belgium, Switzerland, Kazakhstan, Puerto Rico, Yemen, Angola, Hong Kong, South Korea, India, Macau, Bahrain, Belarus, Canada, Gambia, Algeria, Hungary, Indonesia, Malaysia, United Kingdom, Iran, Mongolia, Japan, Serbia, Israel, Nigeria, Austria, Kuwait, Greece, Brazil, Nigeria, Mexico, Denmark, Iran, United Arab Emirates, Venezuela, Nepal, Qatar, Ukraine, Taiwan, Singapore, Gabon, Jordan, Poland, Philippines, Costa Rica, Chile, Tibet, Poland, Kenya, Chile, Colombia, Sri Lanka, Turkey, Argentina.
Domestic Supply For Stainless Steel Rods / Bars
Vadodara, Secunderabad, Madrid, Indore, Ludhiana, Howrah, Bhopal, Houston, Seoul, Nagpur, Navi Mumbai, Bangkok, Melbourne, Faridabad, Pune, Gimhae-si, Istanbul, Sydney, Mexico City, Haryana, Ahvaz, Vung Tau, Los Angeles, Jaipur, Jamshedpur, Manama, Kuwait City, Riyadh, Port-of-Spain, Montreal, Al Jubail, Milan, Noida, Ernakulam, Algiers, Calgary, Coimbatore, Pimpri-Chinchwad, Rajkot, Ankara, Lagos, Rio de Janeiro, Courbevoie, Thiruvananthapuram, Al Khobar, Atyrau, Chandigarh, Kolkata, Nashik, New Delhi, Caracas, Mumbai, Dallas, Muscat, Kanpur, Sharjah, Brisbane, Tehran, Surat, Chennai, Toronto, Ho Chi Minh City, Aberdeen, Gurgaon, Moscow, La Victoria, Dammam, New York, Dubai, Granada, Thane, Doha, Singapore, Bengaluru, Bogota, Jakarta, Busan, Hyderabad, Kuala Lumpur, Cairo, Petaling Jaya, Ahmedabad, London, Hong Kong, Baroda, Santiago, Chiyoda, Perth, Visakhapatnam, Jeddah, Abu Dhabi, Hanoi, Colombo, Edmonton, Ulsan, Ranchi, Geoje-si.