Hastelloy C276 Rods / Bars
ASTM - B574 UNS - N10276, DIN - 2.4819
ASME SB574 Hastelloy C276 Rods, Nickel Alloy C276 Round Bars, C276 Hastelloy Round Bars, Alloy C276 Bars, JIS NW 0276 Round Bars, UNS N10276 Round Bars Stockist, Hastelloy C-276 Bars, Hastelloy C276 Round Bars, Hastelloy® Alloy C276 Rods & Bars Exporter, Hastelloy 2.4819 Bars, ASTM B574 C-276 Hastelloy Bars, Hastelloy Alloy C276 Rods, Hastelloy C276 Rods and Bars Leading Supplier in Mumbai, India.
Bhagyalaxmi Industrial is a prestigious organization that is relatively engaged in Manufacturing, Supplying, and Exporting a wide range of Hastelloy C276 Rods/Bars. We offer these Hastelloy C276 Bars in national as well as international quality standards at very affordable rates to our respective Clients. This alloy chemically consists of elements like Nickel, Chromium, and Molybdenum as its primary alloying material along with a low amount addition of Carbon on it. This Hastelloy Alloy C276 bar provides very great resistance to localized corrosion also on both oxidizing media and reducing media. Nickel and Chromium alloy offers better resistance to grain boundary corrosion and high temperature strength. Furthermore, Hastelloy C276 Rods offers good mechanical properties. It is resistant to intergranular corrosion in the as-welded condition as well as has chloride stress corrosion cracking resistance. The Hastelloy C276 Bars can be easily welded and processed by using standard and modern fabrication processes. It performs very well in extreme conditions. It also offers other attributes such as high tensile strength, good dimensional accuracy, rugged construction, sturdiness, fine finishes, durability, and long-lasting. Our offered range of Bras performs well in a wide range of temperatures, including cryogenic temperatures. These Hastelloy C276 Rods are found to be used in areas of Chemical and Petrochemicals Processing, Construction, Pharmaceuticals, Power Generation, Food processing, Pollution Control, and many more else.
Nickel Alloy C276 Hex Bars, Hastelloy® Alloy C276 Bright Bars, Hastelloy C276 Square Bars, Hastelloy C276 Flat Bars, Alloy C-276 Rods, Hastelloy C276 Rods, Hastelloy C-276 Rectangular Bars, Alloy 2.4819 Rods Stockholder, Alloy C276 Bars Exporter, Alloy C276 Industrial Rods / Bars Stockist in India.​
By keeping in mind our client's requirements, we are manufacturing these high qualities of Hastelloy C276 Bars at various shapes, sizes, specifications, standards, dimensions, thickness, and so on. At Bhagyalaxmi Industrial, we keep in mind all the standards, rules, and regulations while manufacturing our Rods. Our professional experts use top-notch quality raw material for manufacturing our Bars. At the same time, our professional experts use sophisticated technology and tools for manufacturing our Rods.
Our quality control teams conduct different types of quality tests to check the high quality of Hastelloy C276 Rods. In order to deliver the product safely and securely, these Hastelloy C276 Rods are pack in proper quality material. Bhagyalaxmi Industrial delivers the products using a secure and fastest shipment service to our clients within the stipulated delivery time. 
Standard Specification For Hastelloy C276 Rods / Bars
| | |
| --- | --- |
| Standard | ASTM B574 / ASME SB574 |
| Dimensions | ASTM, ASME and API |
| Round Bars Size | 10 mm To 100 mm Dia in 100 mm TO 6000 mm Length. |
| Round bar Diameter | 3-~800mm |
| Hex Bar size | 2-100mm A/F |
| Square bar size | 4 to 100mm |
| Flat bar Thickness | 2 -100mm |
| Flat bar Width | 10 to 500mm |
| Length | 3 to 6 meter, Custom Cut Lengths |
| Form | Round, Square, Hex (A/F), Rectangle, Wire (Coil Form), Wiremesh, Billet, Ingot, Forging Etc., |
Hastelloy C276 Rods / Bars Equivalent Grades
| | | | | | | |
| --- | --- | --- | --- | --- | --- | --- |
| STANDARD | WERKSTOFF NR. | UNS | JIS | GOST | EN | OR |
| Hastelloy C276 | 2.4819 | N10276 | NW 0276 | ХН65МВУ | NiMo16Cr15W | ЭП760 |
Types of Hastelloy C276 Rods / Bars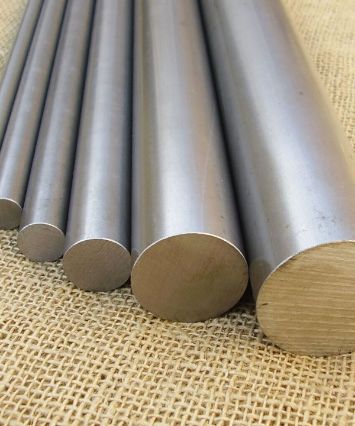 Hastelloy C276 Rods / Bars Chemical Composition
| | | | | | | | | | | |
| --- | --- | --- | --- | --- | --- | --- | --- | --- | --- | --- |
| Grade | C | Mn | Si | S | Co | Ni | Cr | Fe | Mo | P |
| Hastelloy C276 | 0.010 max | 1.00 max | 0.08 max | 0.03 max | 2.50 max | 50.99 min* | 14.50 – 16.50 | 4.00 – 7.00 | 15.00 – 17.00 | 0.04 max |
Mechanical Properties of Hastelloy C276 Rods / Bars
| | | | | | |
| --- | --- | --- | --- | --- | --- |
| Element | Density | Melting Point | Tensile Strength | Yield Strength (0.2%Offset) | Elongation |
| Hastelloy C276 | 8.89 g/cm3 | 1370 °C (2500 °F) | Psi – 1,15,000 , MPa – 790 | Psi – 52,000 , MPa – 355 | 40 % |
Other Types of Hastelloy C276 Rods / Bars
ASTM B574 Alloy C276 Bars Manufacturer
Alloy C-276 Square Bars
Hastelloy C276 Cold Drawn Round Bar
Hastelloy Alloy C276 Rods Stockist
Hastelloy UNS N10276 Round Bars
Hastelloy Alloy C276 Half Round Bars Exporter
Alloy C276 Cold Finish Round Bar
ASTM B574 Hastelloy C276 Rods
Nickel Alloy C-276 Bars
Hastelloy C-276 Bars and Rods Stockholder
Hastelloy Alloy C276 Bright Rods Supplier
ASME SB 574 Hastelloy® Alloy C276 Round Bars
Hastelloy C276 Cold Drown Bars
Hastelloy Alloy C276 Flat Bars
Nickel Alloy C276 Rods
Hastelloy C-276 Hexagon Bars
Hastelloy 2.4819 Bars
ASTM B574 C-276 Hastelloy Alloy Round Bars
Hastelloy C276 Rods / Bars Popular Searches
hastelloy c276 rods & bars suppliers, c276 hastelloy alloy bars price list, alloy c276 round bars wholesaler in mumbai, hastelloy alloy c276 round bars stockyards, hastelloy c-276 bars/rods supplier in mumbai, hastelloy alloy c-276 rods / bars price list, grades c-276 hastelloy bars and rods stockholders, hastelloy c-276 bars and rods price, hastelloy alloy c276 rods and bars dimensions chart pdf, low price hastelloy alloy c-276 bars & rods in mumbai, astm b574 alloy c276 rods, astm b574 hastelloy alloy c276 round bars, cheap price hastelloy® alloy c276 bars and rods, hastelloy alloy c276 round bars pdf, hastelloy alloy c276 cold rolled round bars, asme sb574 c276 hastelloy bars stockist in mumbai, hastelloy c276 round bars / rods exporters in mumbai india, hastelloy c276 rods in best price, hastelloy c276 round bars/rods stockist, hastelloy® alloy c276 cold drown steel bars, alloy c276 bars stockist in india, asme sb574 c276 hastelloy alloy round bars stockist, c276 hastelloy round bars exporters in india, alloy c276 bars dealers in maharashtra, hastelloy alloy c-276 industrial rods & bars, hastelloy c276 bars at best price in india, asme sb574 hastelloy alloy c-276 rods suppliers in india, alloy c276 cr bar / rods stocks, hastelloy c276 hot rolled steel bars traders, hastelloy® alloy c276 rods chemical composition, c276 hastelloy alloy bars manufacturer in mumbai., hastelloy alloy c276 hr bars and rods standards.
Export Destinations For Hastelloy C276 Rods / Bars
Morocco, Nigeria, Slovakia, Jordan, Nepal, Peru, Tibet, Greece, Zimbabwe, Nigeria, Sri Lanka, Japan, Poland, China, Saudi Arabia, Brazil, Iraq, Trinidad & Tobago, New Zealand, Portugal, Mongolia, Indonesia, Gabon, Norway, Gambia, Singapore, Ukraine, Australia, Vietnam, Poland, France, Algeria, Estonia, Afghanistan, Germany, Thailand, Egypt, Romania, Israel, Colombia, Azerbaijan, Bangladesh, Oman, Sweden, Belgium, Serbia, United Arab Emirates, Angola, South Africa, Chile, Chile, Iran, Taiwan, Venezuela, Netherlands, Switzerland, Croatia, Namibia, South Korea, Belarus, Iran, Argentina, Hungary, Spain, Costa Rica, Bolivia, Canada, Ireland, India, Mexico, Qatar, Ecuador, Philippines, Macau, Tunisia, Austria, Mexico, Kuwait, Libya, Italy, Puerto Rico, Turkey, Bulgaria, Lebanon, Kenya, Russia, Kazakhstan, Malaysia, Lithuania, Ghana, Yemen, United Kingdom, Finland, Denmark, Bhutan, Pakistan, Bahrain, United States, Hong Kong, Czech Republic.
Domestic Supply For Hastelloy C276 Rods / Bars
Kolkata, Doha, Baroda, Jakarta, Montreal, Kuala Lumpur, Dallas, Toronto, New Delhi, Pimpri-Chinchwad, La Victoria, Hong Kong, Bhopal, Granada, Kanpur, Surat, Howrah, Gurgaon, Ahmedabad, Abu Dhabi, Lagos, Moscow, Caracas, Jamshedpur, Navi Mumbai, Algiers, Manama, Hyderabad, Colombo, Courbevoie, Istanbul, Nashik, Noida, Brisbane, Dubai, Geoje-si, Rajkot, Vung Tau, Rio de Janeiro, Los Angeles, Jeddah, Al Jubail, Madrid, Cairo, Singapore, Chennai, Ankara, Secunderabad, Aberdeen, Thane, Ulsan, Mexico City, Chiyoda, Jaipur, London, Tehran, Nagpur, Gimhae-si, Ahvaz, Seoul, Milan, Busan, Calgary, Ranchi, Coimbatore, Kuwait City, Thiruvananthapuram, Al Khobar, Petaling Jaya, Edmonton, Vadodara, Port-of-Spain, Dammam, Hanoi, Ernakulam, Chandigarh, Muscat, Melbourne, Santiago, Mumbai, Riyadh, Haryana, Visakhapatnam, Indore, Bogota, Bangkok, Ho Chi Minh City, Bengaluru, New York, Sydney, Pune, Ludhiana, Faridabad, Perth, Atyrau, Houston, Sharjah.