Hastelloy C22 Rods / Bars
ASTM - B574 UNS - N06022, DIN - 2.4602
ASME SB574 Hastelloy C22 Rods, Nickel Alloy C22 Round Bars, C22 Hastelloy Round Bars, Alloy C22 Bars, JIS NW 6022 Round Bars, UNS N06022 Round Bars Stockist, Hastelloy C-22 Bars, Hastelloy C22 Round Bars, Hastelloy® Alloy C22 Rods & Bars Exporter, Hastelloy 2.4602 Bars, ASTM B574 C-22 Hastelloy Bars, Hastelloy Alloy C22 Rods, Hastelloy C22 Rods and Bars Leading Supplier in Mumbai, India.
Bhagyalaxmi Industrial is a popular and leading Manufacturer, Supplier, and Exporter of top-notch quality Hastelloy C22 Rods. Our workers are always maintaining the specific quality and quantity standard by following the national as well as international standards. Hastelloy C22 Bars have an exceptional chemical combination of Chromium, Nickel, and Molybdenum content. One of the advantages of using the Hastelloy Alloy C22 Bars / Rods is its excellent resistance to corrosion in both oxidizing also reducing environments. Also, it is highly resistant to chlorine related stress corrosion cracking. It offers excellent resistance property in chlorides presence. These are welded from all the available forms of welding except the oxyacetylene type of welding.  The low Carbon content prevents carbide precipitation in the Hastelloy C22 Rods which ensures that the alloy can be utilized in the as-welded condition. Our offered Hastelloy C22 Bars have excellent durability and higher performance. Further, it offers good mechanical properties like tensile-yield strength, hardness, and toughness. The chemistry of Hastelloy C22 Rods makes them immune to sulfur related stress cracking which occurs in sour environments at high temperatures in deep wells. Our Hastelloy C22 Bars are used in Off-shore Oil Drilling, Seawater Equipment, Heat Exchangers, Pulp and Paper, Condensers, Pharmaceutical, Chemicals and Petrochemicals Plant, Power Generation, etc.
Hastelloy C-22 Rectangular Bars, Alloy 2.4602 Rods Stockholder, Alloy C22 Bars Exporter, Nickel Alloy C22 Hex Bars, Hastelloy® Alloy C22 Bright Bars, Hastelloy C22 Square Bars, Hastelloy C22 Flat Bars, Alloy C-22 Rods, Hastelloy C22 Rods, Alloy C22 Industrial Rods / Bars Stockist in India.​
At Bhagyalaxmi Industrial, we are having a massive team of experts. They are supervising very strictly the manufacturing unit to ensure the quality standard. And always keeps in mind the industrial and commercial requirements. We offer our Hastelloy C22 Bars in several sizes, standards, specifications, types, dimensions, and wall thickness. Further, our team uses premium quality raw material and world-class machines and modern tools to manufacture our outstanding quality Bars.  Quality is the main factor in these Hastelloy C22 Rods and that is why it undergoes all the testing and quality requirements so that only the best quality can be delivered to Patrons. At Bhagyalaxmi Industrial, we pack our Rods in suitable and environment friendly material to prevent hams and damage at the time of shipping. We deliver our products using the fastest shipping mode without any damage and delay at our valuable Patron's location.
Standard Specification For Hastelloy C22 Rods / Bars
| | |
| --- | --- |
| Standard | ASTM B574 / ASME SB574 |
| Dimensions | ASTM, ASME and API |
| Round Bars Size | 10 mm To 100 mm Dia in 100 mm TO 6000 mm Length. |
| Round bar Diameter | 3-~800mm |
| Hex Bar size | 2-100mm A/F |
| Square bar size | 4 to 100mm |
| Flat bar Thickness | 2 -100mm |
| Flat bar Width | 10 to 500mm |
| Length | 3 to 6 meter, Custom Cut Lengths |
| Form | Round, Square, Hex (A/F), Rectangle, Wire (Coil Form), Wiremesh, Billet, Ingot, Forging Etc., |
Hastelloy C22 Rods / Bars Equivalent Grades
| | | | | | | |
| --- | --- | --- | --- | --- | --- | --- |
| STANDARD | WERKSTOFF NR. | UNS | JIS | GOST | EN | OR |
| Hastelloy C22 | 2.4602 | N06022 | NW 6022 | – | NiCr21Mo14W | – |
Types of Hastelloy C22 Rods / Bars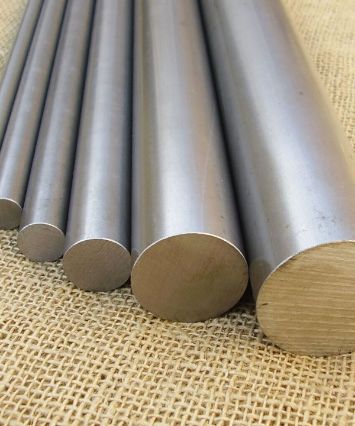 Hastelloy C22 Rods / Bars Chemical Composition
| | | | | | | | | | | |
| --- | --- | --- | --- | --- | --- | --- | --- | --- | --- | --- |
| Grade | C | Mn | Si | S | Co | Ni | Cr | Fe | Mo | P |
| Hastelloy C22 | 0.010 max | 0.50 max | 0.08 max | 0.02 max | 2.50 max | 50.015 min* | 20.00 – 22.50 | 2.00 – 6.00 | 12.50 – 14.50 | 0.02 max |
Mechanical Properties of Hastelloy C22 Rods / Bars
| | | | | | |
| --- | --- | --- | --- | --- | --- |
| Element | Density | Melting Point | Tensile Strength | Yield Strength (0.2%Offset) | Elongation |
| Hastelloy C22 | 8.69 g/cm3 | 1399 °C (2550 °F) | Psi – 1,00,000 , MPa – 690 | Psi – 45000 , MPa – 310 | 45 % |
Other Types of Hastelloy C22 Rods / Bars
ASTM B574 Hastelloy C22 Rods
Nickel Alloy C-22 Bars
Hastelloy Alloy C22 Rods Stockist
Hastelloy UNS N06022 Round Bars
ASTM B574 Alloy C22 Bars Manufacturer
Alloy C-22 Square Bars
Hastelloy C22 Cold Drawn Round Bar
Hastelloy Alloy C22 Half Round Bars Exporter
Alloy C22 Cold Finish Round Bar
Hastelloy 2.4602 Bars
ASTM B574 C-22 Hastelloy Alloy Round Bars
Hastelloy C22 Cold Drown Bars
Hastelloy Alloy C22 Flat Bars
Hastelloy C-22 Bars and Rods Stockholder
Hastelloy Alloy C22 Bright Rods Supplier
ASME SB 574 Hastelloy® Alloy C22 Round Bars
Nickel Alloy C22 Rods
Hastelloy C-22 Hexagon Bars
Hastelloy C22 Rods / Bars Popular Searches
hastelloy c22 round bars/rods stockist, alloy c22 cr bar / rods stocks, grades c-22 hastelloy bars and rods stockholders, asme sb574 c22 hastelloy alloy round bars stockist, hastelloy c22 bars at best price in india, astm b574 hastelloy alloy c22 round bars, hastelloy c-22 bars and rods price, cheap price hastelloy® alloy c22 bars and rods, hastelloy c22 rods in best price, c22 hastelloy round bars exporters in india, hastelloy alloy c22 round bars pdf, alloy c22 round bars wholesaler in mumbai, low price hastelloy alloy c-22 bars & rods in mumbai, hastelloy alloy c-22 industrial rods & bars, hastelloy c22 rods & bars suppliers, hastelloy alloy c22 hr bars and rods standards, alloy c22 bars dealers in maharashtra, hastelloy c22 round bars / rods exporters in mumbai india, hastelloy alloy c22 rods and bars dimensions chart pdf, asme sb574 hastelloy alloy c-22 rods suppliers in india, hastelloy® alloy c22 rods chemical composition, hastelloy alloy c-22 rods / bars price list, c22 hastelloy alloy bars price list, asme sb574 c22 hastelloy bars stockist in mumbai, hastelloy® alloy c22 cold drown steel bars, hastelloy alloy c22 cold rolled round bars, hastelloy c22 hot rolled steel bars traders, astm b574 alloy c22 rods, hastelloy alloy c22 round bars stockyards, hastelloy c-22 bars/rods supplier in mumbai, alloy c22 bars stockist in india,c22 hastelloy alloy bars manufacturer in mumbai.
Export Destinations For Hastelloy C22 Rods / Bars
Bahrain, Italy, Oman, Turkey, Belarus, Trinidad & Tobago, Mongolia, Norway, Taiwan, Thailand, Afghanistan, Bulgaria, Tibet, Nigeria, Pakistan, Nepal, Ghana, Croatia, Mexico, United Arab Emirates, Hong Kong, Tunisia, Iraq, Ireland, Greece, Belgium, Finland, Spain, Czech Republic, Estonia, Costa Rica, Philippines, Portugal, Bangladesh, Iran, Poland, Zimbabwe, United Kingdom, Nigeria, Mexico, Brazil, Chile, Austria, Poland, Angola, Kazakhstan, Kuwait, Azerbaijan, Bolivia, Argentina, Ukraine, Macau, Serbia, Saudi Arabia, Russia, Peru, Japan, New Zealand, Kenya, Iran, Slovakia, Puerto Rico, Hungary, Algeria, Israel, Namibia, Jordan, China, United States, Romania, Yemen, Canada, Egypt, India, Sri Lanka, Bhutan, Libya, Lithuania, Denmark, Gambia, South Korea, Colombia, Germany, Lebanon, Gabon, Ecuador, Venezuela, Australia, Indonesia, Morocco, Vietnam, Sweden, France, Netherlands, Chile, Singapore, South Africa, Malaysia, Switzerland, Qatar.
Domestic Supply For Hastelloy C22 Rods / Bars
Sharjah, Al Jubail, Granada, Doha, Houston, Atyrau, Navi Mumbai, Geoje-si, Mumbai, Caracas, Colombo, Santiago, La Victoria, Baroda, Courbevoie, London, Rajkot, Indore, Chandigarh, Brisbane, Algiers, Bogota, Ernakulam, Los Angeles, Noida, Ahmedabad, Ranchi, Tehran, Surat, Hong Kong, Coimbatore, Ankara, Madrid, Riyadh, Dallas, Thane, Ulsan, Gurgaon, Sydney, Haryana, Dammam, Singapore, Mexico City, Edmonton, Vadodara, Abu Dhabi, Chiyoda, Port-of-Spain, Lagos, Jeddah, Milan, Secunderabad, Jakarta, Ludhiana, Dubai, Hyderabad, Petaling Jaya, Ahvaz, Pune, Bangkok, Pimpri-Chinchwad, Aberdeen, Kolkata, Visakhapatnam, Muscat, Rio de Janeiro, Istanbul, Melbourne, Vung Tau, Cairo, Montreal, Nashik, Calgary, Faridabad, Kuwait City, Kuala Lumpur, Jamshedpur, Jaipur, Kanpur, Thiruvananthapuram, New Delhi, Bengaluru, Toronto, Busan, Bhopal, Moscow, Nagpur, Hanoi, Chennai, Howrah, Al Khobar, Seoul, Gimhae-si, Manama, New York, Perth, Ho Chi Minh City.