Carbon Steel Sheets, Plates & Coils
Carbon Steel Hot Rolled Pressure Vessel Plates, Carbon Steel Hot Rolled Sheets, Lower Temperature Carbon Steel Plates Exporter, CS Sheets, CS Plates, Carbon Steel Sheets, CS Sheets & Plates Stockist, Carbon Steel Cold Rolled Plates, Carbon Steel Coils, Carbon Steel Plates, Carbon Steel Sheets, Plates and Coils Supplier in Mumbai, India.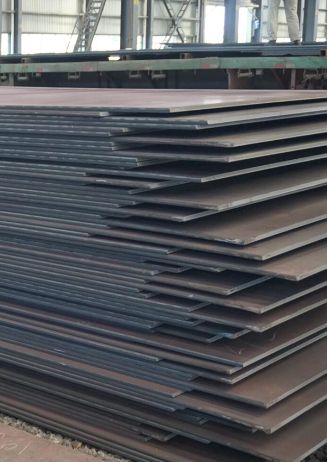 Bhagyalaxmi Industrial is an approved manufacturer, supplier, stockiest, and exporter of Carbon Steel Sheet. We manufacture our Carbon Steel Plates in so many shapes, sizes, grades & specifications as per international standards. We have created our place in National as well as global markets due to the quality of our product. We also focus our attitude towards the satisfaction of our valuable clients, creativeness, and expertise in our work. Carbon Steel Sheet Coils, which we are manufacturing, has excellent corrosion resistance. Our Plates and Coils also offers very good pitting and crevice corrosion resistance in chloride environments. It provides stress to corrosion cracking at high temperatures. Our offered Sheets and Coils have the combination of nickel, chromium and molybdenum, and the combination of molybdenum and copper offers very good corrosion resistance to reducing media. The availability of high chromium content in our Sheets and Plates also offers very good oxidizing resistance too. Our fabricated Sheets and Plates have excellent tensile and yielding strength.
Carbon Steel Sheets & Plates, Carbon Steel Plates Supplier, Carbon Steel Boiler Quality Plates, Carbon Steel Circles, Carbon Steel Industrial Sheets, Carbon Steel Plain Sheets, Carbon Steel Pressure Vessel Plates, Carbon Steel Slitting Coils, Carbon Steel Strips, Carbon Steel Sheet/Plate/Coils Stockist in India.
Bhagyalaxmi Industrial has the well-equipped fabrication unit in the same organization. We have the latest, precise, and highly automated modern machinery to produce our Plates and Coils. We also have highly skilled and trained staff along with genius and creative minds, who are working as engineers of design and several other departments. We all together ensure that the Carbon Steel Sheet we are offering to our esteemed clients are the best in all aspects, whether it may be physical and mechanical potential, physical appearance, or performance in operation.
Bhagyalaxmi Industrial always uses superior quality raw material so that we can produce the best quality of Sheets and Coils. Carbon Steel Plate also goes through several quality check-ups at various levels of manufacturing. We always deliver these Sheets and Plates before due dates. We provide our products with safety, which is also an important aspect, and we also accomplish it by doing proper packaging of our Carbon Steel Coils as per customer's requirement. We provide packaging which is companied by documents specifying details about the product. We deliver our products at the doorstep of our esteemed clients without any delay.
Standard Specification For Carbon Steel Sheets, Plates & Coils
| | |
| --- | --- |
| Thickness | 0.1mm to 12 mm Thk |
| Sheet/Plate Size | 1000 mm x 2000 mm, 1220 mm x 2440 mm, 1500 mm x 3000 mm, 2000 mm x 2000 mm, 2000 mm x 4000 mm |
| Coil Width | 1000mm, 1219mm, 1500mm, 1800mm, 2000mm, 2500mm, 3000mm, 3500mm etc. |
| Coil Length | 2000mm, 2440mm, 3000mm, 5800mm, 6000mm etc. |
| Surface | 2B, 2D, BA, NO.1, NO.4, NO.8, 8K, mirror, checkered, embossed, hair line, sandblast, Brush, etching. |
| Finish | Hot rolled (HR), Cold rolled (CR), 2B, 2D, BA NO(8), SATIN (Met with Plastic Coated), Galvanized etc. |
Types of Carbon Steel Sheets, Plates & Coils
Other Types of Carbon Steel Sheets / Plates / Coils
ASTM A516 CS Cold Rolled (CR) Sheet in Mumbai
A516 CS Flats Stockist
Carbon Steel Blanks
CS Hot Rolled (HR) Plate at Best Price
Carbon Steel Rings Supplier
Carbon Steel Industrial Plates
CS Rolls Exporter
CS Plain Sheets Supplier
CS CR Plates
Carbon Steel Plain Plates Stockist
CS Half Hard Plates
Carbon Steel Plates
Carbon Steel Coils
CS Quarter Hard Plates
Carbon Steel Spring Hard Plates Supplier
Carbon Steel HR Sheets
Carbon Steel Sheets, Plates & Coils Popular Searches
carbon steel plate exporter, carbon steel sheets supplier in india, sa516 carbon steel sheet and plate coils sockist in mumbai, carbon steel sa516 sheet plate exporter in india, carbon steel plates trader in mumbai, astm a516 carbon steel coils, sa516 carbon steel sheet plate, sa516 carbon steel sheet plate and coil, carbon steelh sheet plate stockist in mumbai, carbon steel sheet price list, sa516 carbon steel plate specification, carbon steel sheet plate manufacturer, industrial steel plates specifications, hot rolled steel plate stockist in mumbai, pressure vessel steel plate stockists in india, boiler and pressure vessel steel plates pdf, Pressure Vessel & boiler plates suppliers in india, hot rolled boiler steel plate chemical composition, sa516 pressure vessel carbon steel plates supplier in india, astm a516 boiler vessel steel plate hardness, pressure vessel steel plates price list, hot rolled boiler quality plates, a516 low temperature carbon steel boiler quality plates equivalent grade, astm a283 carbon steel sheet chemical composition, carbon steel sa516 plates supplier, carbon steel sheet price list, 26 gauge carbon sa516 sheet and plate, sa516 carbon steel sheet sizes, 16 gauge carbon steel plate, carbon sa516 coils mechanical properties, asme sa516 carbon steel plate thickness, carbon steel sa516 sheet gauge, astm sa516 carbon steel sheets & plate gauge thicknecarbon steel chart, carbon steel sa516 sheet and plates coils cut to size, astm a283 carbon sheet plate coil dealer in india.
Export Destinations For Carbon Steel Sheets, Plates & Coils
Netherlands, South Africa, United Arab Emirates, Chile, Philippines, Argentina, Canada, Kazakhstan, Belgium, Taiwan, Turkey, Iran, Mexico, Gabon, Bangladesh, Thailand, Trinidad & Tobago, Japan, Slovakia, Hungary, Chile, Venezuela, New Zealand, Ecuador, Yemen, Puerto Rico, Tunisia, Mexico, Bolivia, Belarus, Tibet, Kuwait, Vietnam, Austria, Australia, Israel, Indonesia, Serbia, Ukraine, Peru, Poland, Romania, Hong Kong, Iran, Norway, Nigeria, Sweden, Afghanistan, Nepal, Ghana, Morocco, Sri Lanka, Russia, Switzerland, South Korea, Mongolia, Zimbabwe, United Kingdom, Egypt, Nigeria, Poland, Bulgaria, Kenya, Germany, Ireland, Czech Republic, Algeria, India, Namibia, Iraq, Italy, United States, Finland, Libya, Macau, Estonia, Denmark, Costa Rica, Croatia, Qatar, Azerbaijan, Saudi Arabia, Portugal, Malaysia, France, Colombia, Greece, Spain, Gambia, Brazil, Oman, Lithuania, Jordan, Lebanon, China, Singapore, Angola, Bhutan, Bahrain.
Domestic Supply For Carbon Steel Sheets, Plates & Coils
Milan, Bangkok, Kuwait City, Edmonton, Petaling Jaya, London, Sydney, Lagos, Courbevoie, Vadodara, Toronto, Calgary, Surat, Houston, Perth, Nagpur, Moscow, Al Jubail, Dammam, Rio de Janeiro, Coimbatore, Mexico City, Montreal, Pimpri-Chinchwad, Santiago, Riyadh, Hyderabad, Manama, Chiyoda, Port-of-Spain, New York, La Victoria, Caracas, Navi Mumbai, Doha, Ahmedabad, Ernakulam, Faridabad, Mumbai, Ho Chi Minh City, Sharjah, Indore, Atyrau, Howrah, Hanoi, Kanpur, Baroda, Bogota, Haryana, Tehran, Algiers, Jeddah, Istanbul, Vung Tau, Ulsan, Chennai, Gurgaon, Thane, Kuala Lumpur, Colombo, Los Angeles, Jamshedpur, Dallas, Secunderabad, Noida, Chandigarh, Abu Dhabi, Rajkot, Muscat, Jaipur, Kolkata, Brisbane, Geoje-si, Ankara, Seoul, Dubai, Ahvaz, Bengaluru, Thiruvananthapuram, Busan, Melbourne, Hong Kong, Pune, Al Khobar, Madrid, Nashik, Ranchi, Gimhae-si, Cairo, New Delhi, Granada, Jakarta, Ludhiana, Visakhapatnam, Aberdeen, Bhopal, Singapore.