Aluminium Round Bars, ASTM B211 Aluminium Bars, Aluminium Bars, ASME SB211 Aluminium Rods Stockist, Aluminium Alloy Rods, Aluminum Alloy Bar, Aluminium Rods & Bars Exporter, Aluminum Round Bar, Aluminium Rods and Bars Leading Supplier in Mumbai, India.
Bhagyalaxmi Industrial is one of the best manufacturers, exporter, and supplier of these Aluminium Bars and Rods all over the Industry. Because of its high quality, everlasting usages and are easily available in the market at cheap price with low maintenance cost. We are offering these Aluminium Alloy Round Bars with various forms such as in different sizes, shapes, dimensions, thickness and we are also providing as per the customer requirement respect to the shapes and shapes and so on. We are always maintaining a huge amount of stock of these rods and bars to serve our customers in need.
We, Bhagyalaxmi Industrial manufactured products are very high in demand due to extra and wonderful benefits that we are providing to fulfill the requirements and demand of our customer as well as industry. We are manufacturing these Aluminium Bars with a high combination of Cooper, Titanium, Chromium, Iron, and Aluminium alloy to provide excellent corrosion resistance. Our manufactured Aluminium Rods is an excellent option when chloride stress corrosion cracking is an issue and resists pitting and crevice corrosion.
Aluminium Flat Bars, Aluminium Square Bars, Aluminium Hex Bars & Rods, Aluminium Rectangular Bars, Aluminum Rods Stockholder, Aluminum Alloy Bright Bars, Aluminium Alloy Bars Exporter, Aluminium Industrial Rods / Bars Stockist in India.​
These Aluminium Bars are having several applications in many industries because of its everlasting usages and affordable price. Our manufactured These Rods are enriched with several benefits. Light Weight. Aluminum is a very light metal, Corrosion Resistance, Electrical and Thermal Conductivity, Reflectivity, Ductility, Strength at Low Temperatures, Impermeable and Odorless, Non-magnetic, and so on.
We, Bhagyalaxmi Industrial is manufacturing these Aluminium Rods with high quality raw materials and by seeking advice from our expert team members. We are having a team of expert members and they are looking at all the manufacturing processes to maintain the perfect quality and quantity of the Aluminium Bars.
We are making the best suitable bars and rods that will provide excellent solutions to industrial as well as commercial applications. We are always following the international and national standards and specifications to maintain the quality of these Aluminium Rods.
Our expert team members are also performing numerous tests to check the ductility, strength, workability of these Aluminium Rods. We Pack these rods with standard packaging material and labeling each product for easy identifications and provide fast delivery to our estimated customer.
Standard Specification For Aluminium Rods / Bars
| | |
| --- | --- |
| Aluminium Alloy | ASTM B221, B211, B565, B316, ISO Al Si1MgMn |
| Standard | ASTM, ASME, AMS, GB/T, JIS |
| Aluminium Round Bar Temper | O, H12, H14, H16, H18, H22, H24, H26, H32, H112 |
| Aluminium Bar Form | Aluminium Round, Hex, Flat, Half Round, Oval, Rectangular in Black & Bright Finish |
| Aluminium Round Bar Diameter | 0.1-600mm,etc |
| Aluminium Hexagonal Bar | 0.1-600mm,etc |
| Aluminium Angle Bar Size | 0.5mm*40mm*40mm-20mm*400mm*400mm |
| Aluminium Flat Bar Thickness | 0.1-600mm,etc |
| Aluminium Flat Bar Size | 1-2500mm, etc |
| Aluminium Round Bar Length | 1-12m, Random, Fix & Cut Length or as per clients' requirement |
| Aluminium Bar | Bright, Polish & Black |
Types of Aluminium Rods / Bars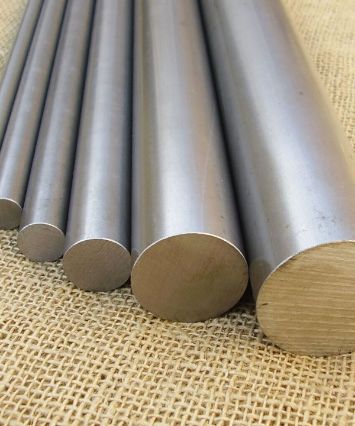 Other Types of Aluminium Rods / Bars
Aluminum Flat Bar
Aluminium Rods & Bars Stockist
ASTM B211 Aluminium Bars Manufacturer
Aluminium Cold Drawn Round Bar
Aluminium Alloy Half Round Bars Exporter
Aluminium Cold Finish Round Bar
ASTM B211 Aluminum Alloy Bars / Rods
Aluminum Cold Drown Bars
Aluminium Bars and Rods Stockholder
ASTM B211 Aluminium Alloy Bars
Aluminium Alloy Bright Rods Supplier
Aluminium Hexagon Bars
Aluminium Alloy Flat Bars
ASME SB 211 Aluminium Round Bars
Aluminium Rods / Bars Popular Searches
aluminum rods chemical composition, astm b211 aluminium alloy round bars, aluminium bars/rods supplier in mumbai, aluminium alloy round bars pdf, aluminium alloy hr bars and rods standards, aluminium cr bar / rods stocks, aluminium alloy rods / bars price list, aluminium rods in best price, aluminium alloy rods and bars dimensions chart pdf, aluminium alloy bars manufacturer in mumbai, asme sb211 aluminium bars stockist in mumbai, aluminium alloy round bars stockyards, aluminium bars and rods price, aluminium bars dealers in maharashtra, aluminium hot rolled steel bars traders, aluminium round bars / rods exporters in mumbai india, aluminium alloy industrial rods & bars, aluminium bars and rods stockholders, aluminium rods & bars suppliers, aluminum cold drown steel bars, aluminium round bars/rods stockist, aluminium round bars wholesaler in mumbai, aluminium alloy cold rolled round bars, aluminium round bars exporters in india, astm b211 aluminium rods, low price aluminium alloy bars & rods in mumbai, asme sb211 aluminium alloy round bars stockist, asme sb211 aluminium alloy rods suppliers in india, aluminum alloy bars price list, cheap price aluminum alloy bars and rods, aluminium bars at best price in india, aluminium bars stockist in india.
Export Destinations For Aluminium Rods / Bars
New Zealand, Canada, Afghanistan, South Korea, Turkey, Ireland, Namibia, Estonia, Kazakhstan, Malaysia, Greece, Bangladesh, Saudi Arabia, Algeria, Germany, Iraq, Trinidad & Tobago, Kenya, Nigeria, Venezuela, India, Switzerland, Bulgaria, Bhutan, Ecuador, Sweden, Japan, Italy, Ghana, Yemen, Hungary, Philippines, Oman, Lebanon, Gabon, China, Egypt, Austria, Pakistan, Argentina, Spain, Gambia, Colombia, Tibet, Russia, Zimbabwe, Slovakia, France, Bahrain, Sri Lanka, Taiwan, Lithuania, Poland, Morocco, Bolivia, Qatar, Angola, Thailand, Kuwait, Denmark, Chile, Mexico, Macau, Serbia, Norway, Iran, Hong Kong, Portugal, Indonesia, Iran, Mongolia, Poland, Israel, South Africa, Jordan, United States, Belgium, Croatia, Nigeria, Romania, Costa Rica, Azerbaijan, Mexico, Chile, Singapore, Netherlands, Peru, Libya, Vietnam, United Arab Emirates, Puerto Rico, Nepal, United Kingdom, Ukraine, Brazil, Australia, Tunisia, Belarus, Finland, Czech Republic.
Domestic Supply For Aluminium Rods / Bars
Petaling Jaya, Algiers, London, Aberdeen, Haryana, Ahvaz, Kanpur, Pune, Thiruvananthapuram, Howrah, Ulsan, Riyadh, Melbourne, Colombo, Tehran, Hong Kong, Brisbane, Nagpur, Chennai, Al Jubail, Los Angeles, Milan, Kuwait City, Jeddah, Pimpri-Chinchwad, Ahmedabad, Dubai, Dallas, Al Khobar, Faridabad, Edmonton, La Victoria, Jaipur, Geoje-si, Kolkata, Caracas, Vadodara, Montreal, Manama, Muscat, Gimhae-si, Nashik, Doha, Atyrau, Bhopal, Calgary, Hanoi, Santiago, Courbevoie, Surat, Singapore, Chandigarh, Abu Dhabi, Kuala Lumpur, Rajkot, Mexico City, Chiyoda, Rio de Janeiro, Bangkok, Perth, Mumbai, Istanbul, New Delhi, Thane, New York, Houston, Gurgaon, Bogota, Dammam, Ranchi, Ho Chi Minh City, Ernakulam, Seoul, Jakarta, Bengaluru, Baroda, Coimbatore, Moscow, Vung Tau, Navi Mumbai, Lagos, Visakhapatnam, Busan, Sharjah, Cairo, Secunderabad, Granada, Sydney, Ankara, Toronto, Ludhiana, Noida, Indore, Port-of-Spain, Hyderabad, Madrid, Jamshedpur.