Aluminium 6061 Rods / Bars
ASTM - B211 UNS - A96061, DIN - 3.3211
Aluminium 6061 Round Bars, ASTM B211 6061 Aluminium Bars, ASME SB211 Aluminium 6061 Rods, Aluminium Alloy 6061 Rods, UNS A96061 Round Bars Stockist, Aluminum 6061 Rods & Bars Exporter, 6061 Aluminium Round Bars, Alloy 6061 Bars, Aluminium 6061 Bars, Aluminium 3.3211 Bars, Aluminium 6061 Rods and Bars Leading Supplier in Mumbai, India.
Bhagyalaxmi Industrial is one of the leading manufacturers, suppliers, exporters, stockiest of Aluminium 6061 Rods / Bars. We offer high quality rods at standard and customized sizes to our esteem customers. We make these rods and bars according to national and international standards and specifications. For our trustworthy customers, we produce these Aluminium 6061 Bars with perfect dimensional accuracy. The Aluminium alloy are quite sensitive to high temperature pressure and tend to lose some of their strength when exposed to elevated temperatures. However, the strength of Aluminium alloy can be increased in a subzero atmosphere very frequently. Aluminum 6061 Rods possess good corrosion resistance. These Aluminium 6061 Bars is a combination of aluminum, silicon, magnesium, copper, chromium, and other alloys. Due to the proper mixture of these alloys, it shows tremendous mechanical properties such as tensile strength, yield strength, shear strength, fatigue strength, elastic modulus, elongation, Poisson's ratio, Hardness, Brinell, etc. These Aluminum 6061 Bars can be easily formed and worked in an annealed condition very well. Our offered Rods has excellent weldability and formability.
Aluminium 6061 Rectangular Bars, Alloy 6061 Rods, Aluminium 6061 Flat Bars, Aluminium 6061 Square Bars, Alloy 3.3211 Rods Stockholder, Alloy 6061 Bars Exporter, Aluminum 6061 Bright Bars, Aluminum Alloy 6061 Hex Bars, Aluminium 6061 Rods, Alloy 6061 Industrial Rods / Bars Stockist in India.​
We, Bhagyalaxmi Industrial are manufacturing Aluminium Alloy 6061 Bars in our own high tech manufacturing unit. We use only the best quality of raw materials. Our raw materials are specially selected by our quality control experts. We also have a team of experts for guiding our workers to produce in a bulk quantity using the latest machinery and tools. For the production process, we make use of premium quality raw materials so that we can develop only the top-notch quality of bars. While production we also use high and advanced machinery to produce these rods and bars in a bulk quantity.
Our experts are always following the national and international standards and specifications to maintain the quality of the Aluminium 6061 Bars. Our experts are well educated and having a vast experience in manufacturing these products.
After our quality control team performs a large number of tests and checks of the product, we, Bhagyalaxmi Industrial must ensure the documentation and packaging of the material because of its high longevity. We perform fast and damage-free delivery to our customers without delay.
Standard Specification For Aluminium 6061 Rods / Bars
| | |
| --- | --- |
| Aluminium Alloy | ASTM B221, B211, B565, B316, ISO Al Si1MgMn |
| Standard | ASTM, ASME, AMS, GB/T, JIS |
| Aluminium Round Bar Temper | O, H12, H14, H16, H18, H22, H24, H26, H32, H112 |
| Aluminium Bar Form | Aluminium Round, Hex, Flat, Half Round, Oval, Rectangular in Black & Bright Finish |
| Aluminium Round Bar Diameter | 0.1-600mm,etc |
| Aluminium Hexagonal Bar | 0.1-600mm,etc |
| Aluminium Angle Bar Size | 0.5mm*40mm*40mm-20mm*400mm*400mm |
| Aluminium Flat Bar Thickness | 0.1-600mm,etc |
| Aluminium Flat Bar Size | 1-2500mm, etc |
| Aluminium Round Bar Length | 1-12m, Random, Fix & Cut Length or as per clients' requirement |
| Aluminium Bar | Bright, Polish & Black |
Aluminium 6061 Rods / Bars Equivalent Grades
Grade
UNS
EN
DIN
ISO
BS (OLD)
USA
WNR
6061
A96061
AW-AlMg1SiCu
EN AW-6061
AlMgSiCu
AlMg1SiCu
HE20
AA6061
3.3211
Types of Aluminium 6061 Rods / Bars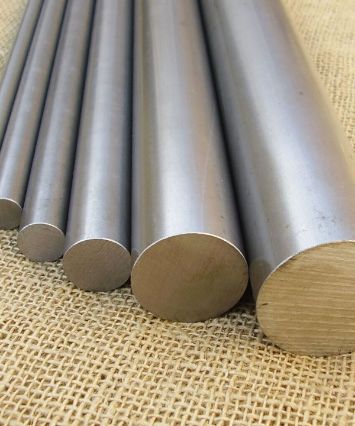 Aluminium 6061 Rods / Bars Chemical Composition
Grade
Mn
Si
Cr
Cu
Fe
Zn
Al
Mg
Ti
Other
Each/Total
6061
0.15
0.4-0.8
0.15-0.35
0.15-0.4
0.7
0.25
Remainder
0.8-1.2
0.15
0.005/0.15
Mechanical Properties of Aluminium 6061 Rods / Bars
| | | | | | |
| --- | --- | --- | --- | --- | --- |
| Grade | Tensile Strengtd (PSI) | Yield Strengtd (PSI) | Shear Strengtd (PSI) | Elongation in 2″ | Brinell Hardness |
| 6061 | 45,000 | 40,000 | 31,000 | 12 | 95 |
Other Types of Aluminium 6061 Rods / Bars
Alloy 6061 Square Bars
Aluminium 6061 Cold Drawn Round Bar
Aluminum Alloy 6061 Half Round Bars Exporter
Aluminium UNS A96061 Round Bars
ASTM B211 Alloy 6061 Bars Manufacturer
Alloy 6061 Cold Finish Round Bar
ASTM B211 Aluminium 6061 Rods
Aluminium Alloy 6061 Rods Stockist
ASME SB 211 Aluminum 6061 Round Bars
Aluminium 6061 Hexagon Bars
Aluminium 3.3211 Bars
Aluminium Alloy 6061 Flat Bars
Aluminum 6061 Bars and Rods Stockholder
ASTM B211 6061 Aluminium Alloy Round Bars
Aluminium 6061 Cold Drown Bars
Aluminium Alloy 6061 Bright Rods Supplier
Aluminium 6061 Rods / Bars Popular Searches
asme sb211 6061 aluminium alloy round bars stockist, aluminium 6061 bars and rods price, asme sb211 6061 aluminium bars stockist in mumbai, aluminium 6061 round bars/rods stockist, aluminium alloy 6061 rods / bars price list, aluminium 6061 bars at best price in india, 6061 aluminium alloy bars price list, alloy 6061 bars dealers in maharashtra, 6061 aluminium round bars exporters in india, aluminium alloy 6061 hr bars and rods standards, 6061 aluminium alloy bars manufacturer in mumbai, aluminum 6061 rods chemical composition, aluminium alloy 6061 cold rolled round bars, aluminium 6061 round bars / rods exporters in mumbai india, alloy 6061 bars stockist in india, asme sb211 aluminium alloy 6061 rods suppliers in india, aluminium alloy 6061 rods and bars dimensions chart pdf, astm b211 aluminium alloy 6061 round bars, alloy 6061 cr bar / rods stocks, aluminium alloy 6061 round bars stockyards, aluminium 6061 rods & bars suppliers, aluminium 6061 rods in best price, alloy 6061 round bars wholesaler in mumbai, cheap price aluminum 6061 bars and rods, aluminum 6061 cold drown steel bars, astm b211 alloy 6061 rods, aluminium 6061 bars/rods supplier in mumbai, aluminium alloy 6061 industrial rods & bars, aluminium alloy 6061 round bars pdf, low price aluminium alloy 6061 bars & rods in mumbai, aluminium 6061 hot rolled steel bars traders, grades 6061 aluminium bars and rods stockholders.
Export Destinations For Aluminium 6061 Rods / Bars
Bahrain, New Zealand, Chile, Spain, Singapore, Morocco, Tunisia, Angola, South Africa, Costa Rica, Argentina, Serbia, Italy, Taiwan, Finland, Peru, Nepal, Algeria, Nigeria, Gabon, Lithuania, Czech Republic, Namibia, China, United States, Nigeria, Poland, Israel, Thailand, Mexico, Japan, Turkey, Switzerland, Pakistan, Puerto Rico, Belgium, Mexico, Norway, Yemen, Austria, Macau, Trinidad & Tobago, Australia, Bhutan, Kenya, Greece, Kuwait, Iran, Venezuela, Mongolia, Hong Kong, Poland, Sri Lanka, Slovakia, Croatia, Ecuador, Malaysia, Ireland, Romania, Zimbabwe, Oman, Indonesia, Egypt, Bolivia, United Arab Emirates, Colombia, Russia, South Korea, Iran, Iraq, Estonia, Portugal, United Kingdom, Azerbaijan, Germany, Sweden, Brazil, Philippines, Tibet, Kazakhstan, Netherlands, Chile, Hungary, Belarus, Libya, India, Jordan, Vietnam, Qatar, Saudi Arabia, Canada, France, Ukraine, Denmark, Gambia, Afghanistan, Ghana, Bangladesh, Bulgaria, Lebanon.
Domestic Supply For Aluminium 6061 Rods / Bars
Indore, La Victoria, Seoul, Ankara, Port-of-Spain, New York, Perth, Ahmedabad, Secunderabad, Surat, Jeddah, Milan, Sydney, Toronto, Nagpur, Kuala Lumpur, Navi Mumbai, Moscow, Bengaluru, Ernakulam, Edmonton, Bogota, Pune, Haryana, Colombo, Manama, Granada, Istanbul, Geoje-si, Ludhiana, Vung Tau, Abu Dhabi, Montreal, Kuwait City, Gurgaon, Gimhae-si, Pimpri-Chinchwad, Thiruvananthapuram, Hong Kong, Ranchi, Baroda, Jaipur, Jamshedpur, Rajkot, Atyrau, Petaling Jaya, Hanoi, Singapore, Kolkata, Chandigarh, Ho Chi Minh City, Al Jubail, Doha, Sharjah, Jakarta, Busan, Mexico City, Courbevoie, Muscat, Dallas, Howrah, Brisbane, Al Khobar, London, Vadodara, Bhopal, Caracas, Nashik, Madrid, Houston, Coimbatore, Santiago, Dammam, Kanpur, Rio de Janeiro, Los Angeles, Faridabad, Melbourne, Calgary, Lagos, Bangkok, New Delhi, Chiyoda, Chennai, Noida, Aberdeen, Mumbai, Hyderabad, Ulsan, Cairo, Visakhapatnam, Dubai, Algiers, Riyadh, Ahvaz, Thane, Tehran.